What Makes Angus Beef Quality Better than Regular Beef?
Blog
| October 17th, 2017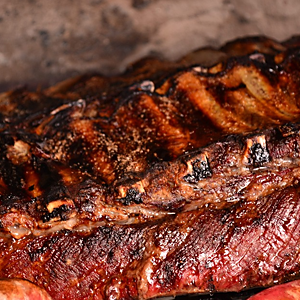 South Fork Angus is well known throughout Australia as "The Home of Quality Seed Stock on the Mornington Peninsula." This specialised Angus farming team produces the ultimate prime quality cattle herd, all members of which are readily adaptable to varied conditions and environments. With the focused goal of breeding cattle that have calm temperaments and easygoing dispositions that lead to high degrees of fertility, the expert South Fork team ensures high production rates among the herd for greater profits. Through use of knowledge, understanding, experience and updated technology, this unique company team of successful cattle ranchers has devised quality methods of raising and handling the herd from newborn calves to well-adjusted, healthy cows and bulls that produce strong young calves to continue growing the herd.
What Makes Angus Beef Quality Consistently Better than Regular Beef?
There are certain farming features and qualities that make Angus beef a better grade than regular beef, on a consistent basis. These features and qualities include the following:
• Careful Feeding and Care of Cattle. – Pure Black Angus cattle are grass-fed without any trace of antibiotic use. Since genetically, the pure Angus breed is celebrated for producing beef cattle that have excellent marbling and growth rates, the highest grade of beef that results is very flavourful and easy to roast, broil or grill. This pure breed of cattle matures quickly, free of growth hormones or antibiotic treatments. The finest Black Angus herds are produced in Australia, New Zealand, Chile and Argentina today, and Australian Angus farms and ranches are well recognised for their careful attention to all aspects of producing and raising ultimate quality, healthy and productive herds.
• Limited Herd Sizes. – The greatest amount of pure Black Angus beef comes from farms with herds located in southeastern regions of Australia. In these regions, the climate is temperate and well-suited to producing finest quality cattle and beef. Since most of these farms are smaller than cattle ranches in other Australian locales, these cattle farmers can devote more personal attention to each member of the herd, which leads to a supreme quality Angus herd and the ultimate quality of beef that results. Also, when smaller sized batches of beef are monitored in Angus beef processing plants, highest levels of quality standards are assured for creating top-grade prime beef products.
• Healthy Herd Environment. – When Angus farmers take care to create a healthy, tranquil and appealing living environment for their cattle herds, the herds' prime pedigreed bulls and cows are more productive and contented. As more healthy newborn calves arrive, the herd grows in size, and more of the finest quality beef obtainable is produced for the eager consumer market.
Beef marketers and suppliers for the wholesale and retail Black Angus beef markets throughout Australia and globally know that the optimum quality Angus herds are bred and raised mainly in southeastern Australia, on specialised farms like the renowned South Fork Angus Farm in Moorooduc, Victoria. By selecting beef products produced from this top-tier Angus farm's superior herd, these Black Angus beef suppliers and sellers know they are bringing the ultimate quality Angus beef available worldwide to the marketplace.
Optimized by NetwizardSEO.com.au